Ignite Master Artist Series
Harding Fine Arts Academy's Ignite Master Artist Series actively advances the arts by providing exceptional programming to cultivate rich and transformative educational opportunities for our students and inspire audiences through free community concerts.
Events are free and open to the public. Guarantee your seat by registering.
Sponsorship Opportunities Available!
As a sponsor of the Ignite Master Artist Series you or your business may be entitled to an additional tax credit (up to 75% of your donation) under the Oklahoma Equal Opportunity Education Scholarship Act. Download our flyer explaining the tax credit program and learn how you can take advantage of this unique opportunity.
2022-2023 Programs and Events
Students at Harding Fine Arts Academy, in partnership with Broadway Plus, will have the opportunity to take class from cast members of Hadestown. Classes include: Ensemble Dance Workshop, Sing-a-long Workshop, and Acting Through Song Masterclass. In addition, cast members will perform for the entire student body and 12 advanced drama students will get to see the show in-person at the Civic Center.
*This event is not open to the public and is exclusively for the students at HFAA
Please join us for a free movie screening 'ALL EYES.' – a thriller about a disgraced podcast host who interviews an eccentric farmer who claims to have a monster living in the woods near his house. The film is directed by Todd Greenlee, written by Alex Greenlee, and produced by Adam Greenlee, brothers originally from Altus, Oklahoma. Prior to the movie, audience members will enjoy a panel with leading experts on the state of filmmaking in Oklahoma.
An Evening with Jacob Seyer
Friday, February 10, 2023
6:30 pm | Pre-Show Artist Talk
7:30 pm | Community Concert
Celebrate Valentine's weekend early with internationally recognized percussive guitarist, Jacob Seyer. Jacob is a Pacific Northwest based acoustic fingerstyle guitarist, international award-winning composer, and teacher whose music has been described as sophisticated, groundbreaking, and full of variety.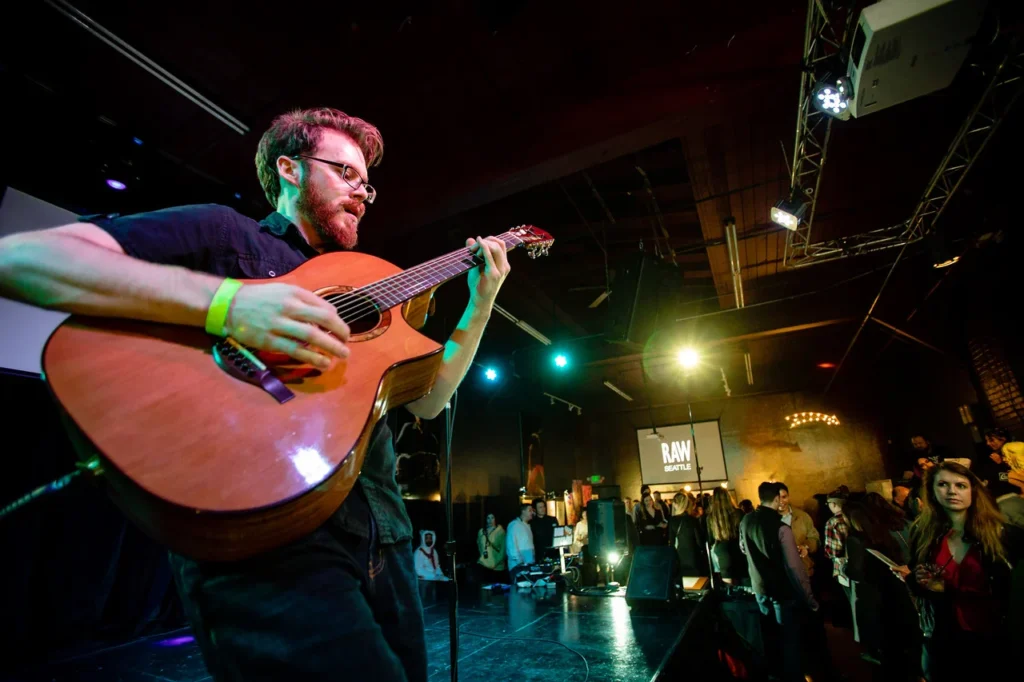 Computational Design with Stan Carroll
February 27 – March 10, 2023
Living and breathing a digital 3D design-centric career which stretches well beyond the typical domain of an architect and deeply into advanced computational design and digital fabrication, Carroll, a 25 year architectural practitioner, regularly has tested the limits of form and function under the name of Beyond Metal since 1998. His work spans from the design phase to the hands-on fabrication within the domains of furniture design, building design, urban place making, and large scale public art.
*This event is not open to the public and is exclusively for the students at HFAA
View his full biography online.
Sponsored by Oklahoma Arts Council
First Americans Cultural Experience
Friday, April 14, 2023
6:00 pm | Pre-Show Artist Talk
6:30 pm | Community Concert
Thank you to our generous sponsors!
Event Sponsor
Mary Ann & Ken Fergeson
Artist Sponsor
Doug Eason
Joy Reed Belt
United Mechanical Services Inc.
Oklahoma Arts Council
John Yoeckel
Associate Sponsor
First Bank & Trust Co.